About Us
Here for railway people since 1858
The Railway Benefit Fund, also known as RBF, is a charity that provides support to current, former and retired railway staff and their dependents across the UK.
We've been here for railway people since 1858 and today, thanks to the generosity of our supporters, we're able to offer help to those who need us. From financial grants and confidential advice to online tools and a legal helpline, we provide a range of services designed to provide support through life's unexpected events. Our assistance is available to anyone working, or who has worked, in the railway, including passenger, freight, infrastructure, supply chain and ancillary services. We are not a membership organisation and rely solely on fundraising and donations so we can continue to support our Railway Family.
Our Vision and Mission
Our vision is for a brighter future for railway people across our nation.
Our mission is to provide customised support to railway people and their families, improving the lives of current and former workers, wherever they are in rail.
Our History
The RBF was founded as the Railway Benevolent Institution in 1858 under our first president, George Glyn, 1st Baron Wolverton, during a meeting held by a group of railway clerks in London. The original purpose of the Institution was to provide a fund for the wives and children of railway workers who were widowed and orphaned due to the dangerous nature of railway work at the time.
Although railway employees paid a subscription to belong to the Institution, it relied very heavily upon public support. One notable supporter of the fund was Charles Dickens, who gave a speech at the Ninth Anniversary Festival of the Railway Benevolent Institution in 1867.
"It necessarily happens that railway officers and servants are not remunerated on the whole by any means splendidly, and that they cannot hope in the ordinary course of things to do more than meet the ordinary wants and hazards of life. But it is to be observed that the general hazards are in their case, by reason of the dangerous nature of their avocations, exceptionally great, so very great."

Charles Dickens
1858
RBF was founded as the Railway Benevolent Institution.
1875
In 1875 an orphanage was established for children of deceased railway men in Derby, which ran until 1993.
1914
In 1914, a concert in aid of the Railway Benevolent Institution was held at the Royal Albert Hall and attended by King George V.
1947
In 1947 a home in Dorking, Surrey, was opened for aged railwaymen and their wives or widows.
2006
The charity became officially known as the Railway Benefit Fund in 2006.
2023
Today, RBF is based in Crewe and continues to support UK railway people 160 years after we were founded.
Making a Difference

The Railway Benefit Fund is a member of the National Suicide Prevention Alliance. The NSPA is an alliance of over 1000 public, private, voluntary and community organisations in England that care about suicide prevention and are willing to take action to reduce suicide and support those affected by suicide. Learn more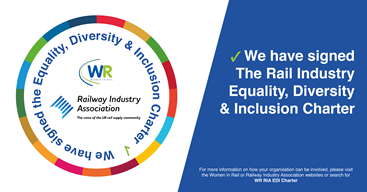 We have joined the Women in Rail and Railway Industry Association EDI Charter. The joint 'Equality, Diversity & Inclusion Charter' is a commitment to work together to build a more balanced higher performing sector and has been backed by over 140 organisations. Learn more

We have signed the Railway Mental Health Charter. Aligned with good practice and developed to respond to industry needs, the charter provides targeted actions and resources for improving mental health in your company. Learn more

I'm finding it really helpful. I sometimes go a long time without anyone to talk to and it's very hard. I'm 94 and meeting new people is difficult, so check in and chat in my own home with a lovely lady to talk to is fantastic. I still manage to get to town to run my errands, although at my age I don't run! But the casual conversations I have with shop keepers are nothing like the calls, which are much more personal and involved.
Words cannot describe how grateful I am for the help and support this charity has given us, before this I felt so hopeless and worried about the future, it has been a really tough, stressful year but I now have some sense of positivity that things will get easier and that wouldn't have happened without RBF's support.
When I approached the RBF, I felt hopeless and that I had no chance of ever paying off all my debts. I sent in my application asking for support with my council tax and energy bills, and the charity provided me with a grant to finally pay off these debts. Since receiving this support, I feel so happy and relieved.