We are delighted to announce that our Christmas Shop is now officially open! We have a selection of rail themed items available this year including two brand new Christmas Cards and our 2023 Calendar 'Rail Moments in History.' All sales from the RBF Christmas Shop will go directly towards supporting our Railway Family this Christmas.
The RBF Calendar, kindly sponsored by TES 2000, is back for 2023 and this year features stunning images of Rail Moments in History. Trains featured in the calendar include the Flying Scotsman, the Journey Shrinker and Mallard. The calendar is A4 landscape size and costs £8.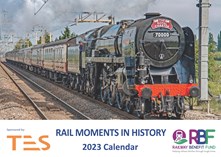 We have two new card designs for sale this year. The first features an original photograph taken during our 'Royal Charter' fundraising event to celebrate the Platinum Jubilee; a stunning image of 70000 Britannia with a snowy background, by Tony Miles.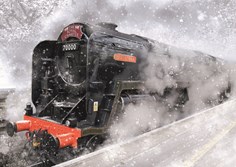 The second card is a lovely illustration by Phil Johnson of a Highland Winter Journey, featuring a steam train travelling along a snowy viaduct. These bespoke cards come in packs of 10 and are £4.50 each.